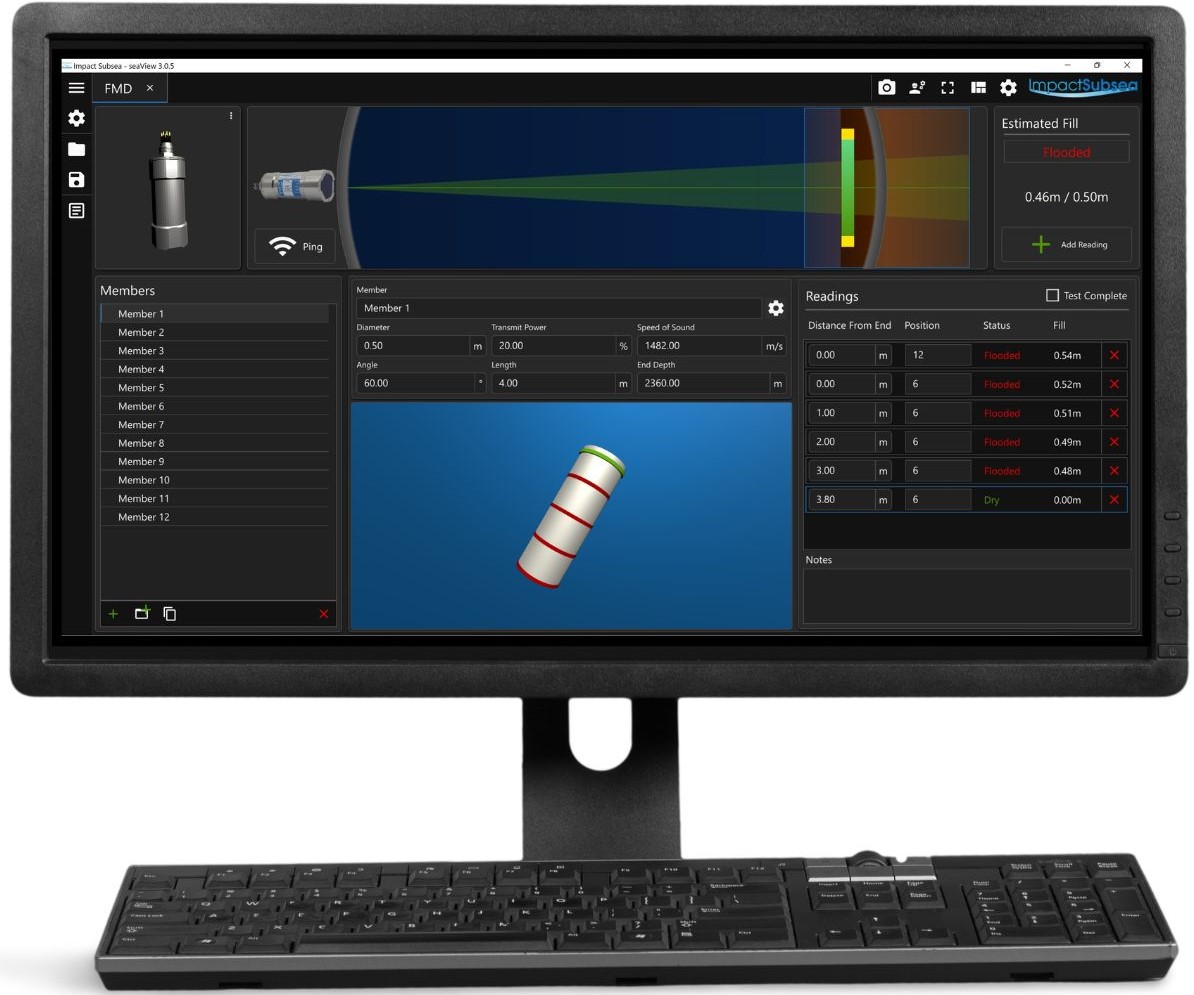 Impact Subsea has released a new generation of underwater, Flooded Member Detection system: ISFMD V3.
ISFMD V3 provides a highly intuitive underwater flooded member detection system for deployment by divers or remotely operated vehicles.
The system provides capability to test and store results for multiple underwater members at a time. Multiple members can be preconfigured prior to commencing the survey with details of diameter, length and angle. Multiple readings can be logged per member, including at different test positions around the member.
Members are automatically classified as flooded, part flooded or dry, using an advanced digital correlation detection technique.  This technique allows acoustic returns to be detected even if the return is below the ambient noise level.  This approach to detecting an acoustic return ensures exceptionally high accuracy and reliability in readings.
Commenting on the launch, Ben Grant, Managing Director, Impact Subsea stated: "Having worked closely with users of our original ISFMD system, V3 has been created to provide the ultimate, acoustic based Flooded Member Detection system. The user interface provides a high level of feedback of probe position, acoustic readings and organisation of the complete FMD survey".
The ISFMD V3 system operates by transmitting an acoustic pulse into an underwater member.  If there is a liquid inside the member the pulse will transfer through the member, bouncing off the opposite member wall and back to the probe. If however the member is full of air the signal is attenuated and will not bounce back to the probe.
The use of acoustics to determine the presence of a liquid inside the member is a safer and logistically more simple solution than alternative gamma radiation based Flooded Member Detection systems. Moving away from the traditional analogue detection methods, used in some alternative acoustic based Flooded Member Detection systems, provides a step change in the system performance and reliability.
Users of the original Impact Subsea ISFMD system will benefit from a free upgrade to V3 as part of the company's commitment to lifelong support of its products.
Full details of the ISFMD V3 system can be found here. A video overview of the new system software can be viewed here.